Harvard Library Names New Vice President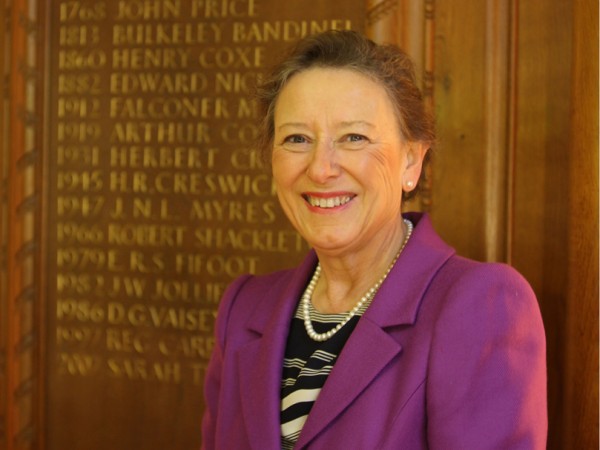 The Harvard Library continues to undergo major changes of leadership during a period of strong reorganization. The provost of the university, Alan Garber, announced this week that Sarah Thomas, who is currently the director of the University of Oxford's Bodleian Libraries, will be moving to Cambridge MA in August to become VP of the Harvard Library. This is a new position with general responsibility for the famed library.
Thomas will report to the provost, and her responsibilities will include those that were previously held by Mary Lee Kennedy, who was senior associate provost for Harvard Library.
Thomas became the chief librarian at Bodley in 2007, and was the first female and non-British citizen to hold that post in over 400 years. In 2007, Thomas also won the Dewey medal from the ALA for creative leadership of high order. In the past, she was the chief librarian at Cornell University. During her time there, that library won the Association of College and Research Libraries' Excellence in Academic Libraries Award, which was in 2002. Thomas also worked in the past at the Library of Congress. There she set up the Program for Cooperative Cataloging. She also worked at the National Agricultural Library, the Research Libraries Group and at Widener Library in the 1970s.
Thomas was raised in the state of Massachusetts, and she graduated from Smith College in 1970. She earned her masters in library science from Simmons College in 1973. She then earned her Ph.D. in German literature from Johns Hopkins University in 1983.
Thomas has written numerous publications since she earned her masters in library science, including:
"The Bod Squad," in Transforming The Bodleian (2012);

"The Encouragement of Learning," in Copyright in the Digital Age (2010);

"Publishing Solutions for Contemporary Scholars," in Library HiTech (2010);

"Advancing Scholarship Through Library Collaboration," in Die Innovative Bibliothek: Elmar Mittler zum 65. Geburtstag (2005).
Thomas also served on the Harvard Overseers' visiting committee for the University Library and is right now a member of the Andrew Mellon Foundation Board, the Research Libraries UK Board, and also the Smith College President's Council, as well as other professional undertakings related to libraries.
Helen Shelton is the executive director of Harvard Library, and she will report to the new VP. She noted that Thomas' rich and deep experience in important research libraries in the UK and US will be of great benefit to the Harvard Library as it goes into the newest phase of its evolution.
Thomas has noted that she is excited to go back to Harvard, where she started working as a librarian filing catalogue cards in the 1970s. She said that she knows how dedicated the staff is there, and also how excellent the collections are, which makes the library a rich resource for both scholars and students. Thomas also said that she is excited to go back to Massachusetts because that is where her family is.
Thomas noted that her work at Oxford has been very full and rewarding, and serving as Bodley's librarian was a great delight and a privilege for her
At Bodley, the collections that Thomas managed numbered more than 11 million printed items, and also 50,000 e-journals, and thousands more materials in various formats.