President Obama Seeking More Internet Aid for Libraries and Schools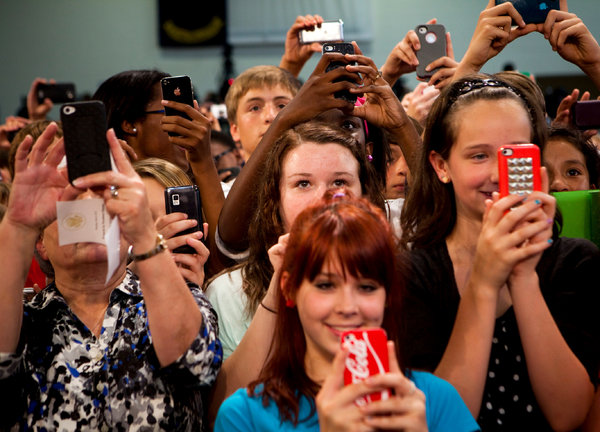 President Obama this week visited a middle school in North Carolina, where he demonstrated the Internet education programs that he wants to make available around the US.
Obama spoke to an audience of giddy teenagers in a warm gymnasium. He called upon the FCC to expand a program that provides high speed Internet to libraries and schools. He said this should be done even if it means boosting the fees that have been added to the phone bills of consumers for years. He said this initiative could give better technology to most schools in just five years.
He said there is no reason that the US can't replicate the success that is being had at this North Carolina middle school. He also noted that expanding the program does not require an act of Congress and that the FCC can act on its own.
Obama was joined by Secretary of Education Arne Duncan, whose department will work with the FCC to redo the Internet initiative. It is known as the Schools and Libraries Program, or E-rate. The program gives local schools Internet speeds of up to 1 GB per second, which is among the fastest available on the market. With the money that the president wants to redirect for this program, schools also could set up wireless networks all through their buildings.
The president pointed to the program in Mooresville NC for its successful program, which upgraded all of the Internet technology but also gave a computer to every student and more training for teachers. School performance has gone up.
Mr. Duncan said that he learned about what was happening in Mooresville, which is near Charlotte, through a friend who is the school superintendent. Duncan said that the school stopped buying books a few years ago to pay for the new technology. He said Obama wants to put a spotlight on best practices and scale them up on a national basis.
For this program to be expanded all through the US, phone customers would be expected to pay up to $5 more per year.
The Schools and Libraries program is a piece of the Universal Service Fund, which is a $9 billion program that distributes public funds for several related reasons. Half of the money subsidizes phone and Internet service to remote and rural areas. Two billion goes to libraries and schools, and a similar amount goes to phone service for lower income people. About $200 million pays for phone and Internet to doctors in rural areas.
The FCC does not actually answer directly to the president, but he does nominate the chairman of the organization. Any changes in the structure of this program have to go through rulemaking and then be approved by the members of the commission.
The program charges phone companies, which then pass the cost to customers. The tax is about 15% of the long distance part of a phone bill. This causes a monthly assessment of $4 or so to the typical land line or mobile phone bill.
Schools that are able to qualify for E-rate will get discounts of 20-90% on equipment and services. This depends upon the income level of the household.
Officials for the Obama administration state that the E-rate program gives cheap Internet connections to community groups, but the service is not usually different than what people get at home, which is about 20 MB per second. This is fast enough for the consumer at home to stream video, but it is not fast enough if many classrooms are streaming at once.