Most Social Media Friendly State Libraries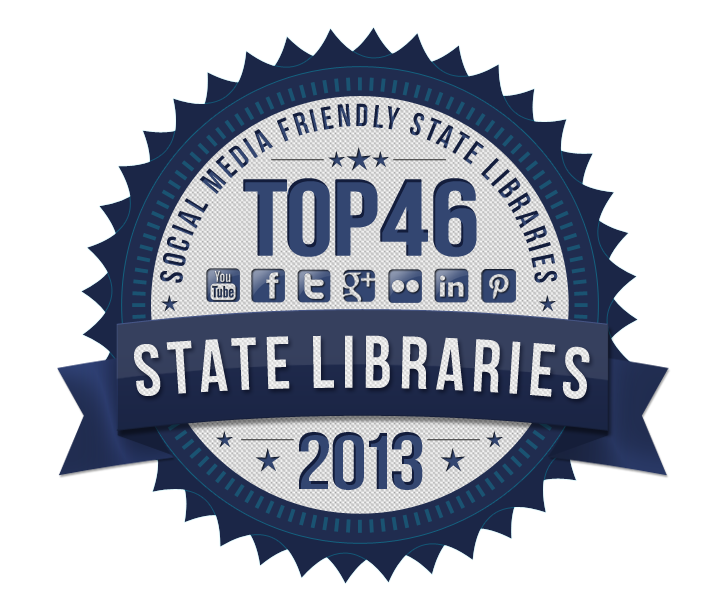 Badge Available for Use
<!- mfunc feat_school ->
Do libraries need social media?
According to the American Library Association's 2013 State of America's Libraries Report, the answer is a resounding yes. Libraries have made many changes over the years as technology has evolved, and they continue to embrace new technologies that improve their ability to provide resources to the community, including social media.
Librarians and staff members often have limited time and resources, so they must choose the social media platforms that will best serve the needs of their staff, patrons, and the community. Large platforms such as Facebook and Twitter are popular because they allow staff to get the word out about upcoming events quickly while reaching a wide audience. A newer platform that is gaining popularity is Pinterest. This photo-sharing site allows users to create multiple boards for different types of content, so many libraries have separate boards for new books, library events, films, and even book-themed art.
To determine which state libraries are doing the best job of managing their social media presence, we gathered usage stats for each of the 50 libraries on the top social media platforms. Points were assigned based on the amount of activity and number of followers and weighted to put more emphasis on the platforms that were used by the most libraries. The maximum possible score was 100, with 28 points possible for Facebook, 22 for Twitter, 21 for Flickr, 20 for YouTube, 5 for LinkedIn, 3 for Pinterest, and 1 for Google Plus.
If your library placed well on our list of social media friendly state libraries, feel free to let the world know by sharing the above badge on your website and social media accounts.
Here are all 50 state libraries, ranked from highest to lowest for social media friendliness:
State Libraries with No Social Media Presence
Not every state library has made use of social media. There were four states we couldn't find Facebook, Twitter, or other social media accounts for. The four state libraries with no social media presence are:
Illinois State Library
State Library of Pennsylvania
Vermont Department of Libraries
Wisconsin Department of Public Instruction's Division for Libraries and Technology
If your state library didn't do well, never fear: It's not too late to establish a strong social media presence. To keep from getting overwhelmed, try building a following on one platform at a time, starting with Facebook or Twitter.
Note: If you notice any mistakes in the above data, please let us know.
SEARCH MASTERS IN LIBRARY SCIENCE DEGREES